INNOVATIVE SOLUTIONS
Microsites and BTS Hotels
DESIGNING SOLUTION THROUGH INNOVATION
We do business in passive infrastructure, but we never are and never will be a passive company. Indeed, IBS is a very dynamic company driven by continuous improvement and pursuit of innovation. We utilize the state-of-the-art online site planning and remote monitoring, thus offering "peace of mind" and added value to all our stakeholders. We have also engineered an innovative BTS Hotel solution enabling operators to roll out their network rapidly and cost effectively, through shared infrastructure. Our goal is simple: when it comes to outsourcing your passive infrastructure, IBS is the first name that comes to mind.
We have built our business and our reputation on providing high quality services at the most competitive prices. We believe that not all clients are the same, which is why we offer comprehensive services that can be tailored to your exact needs. We are committed to finding the most flexible deployment solutions that enhances your performance and also prove to be cost effective and highly efficient.
INNOVATIVE TOOLS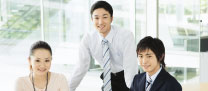 IBS is constantly innovating to offer its clients one- stop solutions. The fast growing economy, rise of data consumption, and roll out of next generation technologies such as 4G LTE, contribute to the increase in the demand for telecom towers both macro and microsites. Some of IBS innovations to prepare itself consist of:
Online site planning tools speeding up the process of deployment
Online site monitoring tools bringing more efficient management and security
Innovative BTS Hotel enabling resource sharing and faster roll out.